Dominique Marie François René Galouzeau de Villepin is a French politician who served as Prime Minister of France from 31 May 2005 to 17 May 2007 under President Jacques Chirac.

In his career working at the Ministry of Foreign Affairs, De Villepin rose through the ranks of the French right as one of Chirac's protégés. He came into the international spotlight as Minister of Foreign Affairs with his opposition to the 2003 invasion of Iraq, one year after his appointment to the office, which culminated with a speech to the United Nations.Before his tenure as prime minister, he also served as Minister of the Interior (2004–2005).

After being replaced by François Fillon as prime minister, De Villepin was indicted in connection with the Clearstream affair,but was subsequently cleared of charges of complicity in allowing false accusations to proceed against presidential rival Nicolas Sarkozy regarding bribes paid on a sale of warships to Taiwan. De Villepin enjoyed a modest return to public favour for his public critique of President Sarkozy's style of "imperial rule."

He has written poetry, a book about poetry, and several historical and political essays, along with a study of Napoleon. Villepin is an honorary member of the International Raoul Wallenberg Foundation.
In 2019, I was invited to participate in the World Entrepreneurship Conference. The people who attended the meeting were all entrepreneurs. Many of them are business managers engaged in the foreign trade industry. I gave a speech for more than two hours, titled "Three Ways of Living for Foreign Trade Enterprises"(Foreign Trade Breakthrough in the New Economic Era).
Throughout my speech, de Villepin had his interpreter continuously translate my speech to him. He would lead the applause for me. Since he was seated in the front row, I saw a lot of encouragement and recognition from him.
After my speech, he asked his staff to tell me to go to the VIP room to communicate with him. For more than an hour, we talked a lot. He has a deep understanding of economics and business management. He told me about the characteristics of French business management, the survival and profit methods of French companies.
At this time, he suddenly made a request that surprised me very much. He wanted me to be a simultaneous interpreter of his speech.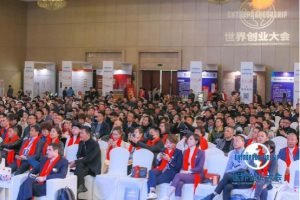 Because the topic of his speech is very professional, and his current translation is difficult to translate very accurately.
So, for the first time, I engaged in the profession of simultaneous translation. His speech lasted three hours and put my vocabulary to the test. At first, I was very nervous and my reaction speed was relatively slow, so he slowed down his speech thoughtfully. Slowly, I entered the state. He began to show his appeal to the fullest.